E-Pilot by Alber
EXPERIENCE THE DESIGN
The first impression is convincing. The new add-on scooter e-pilot turns your wheelchair into a sporty
vehicle in a matter of seconds. Just a few simple steps to attach the e-pilot to your wheelchair and you
have a dynamic combination for everyday life. Annoying search for a parking space and the tedious
transfer in and out of the car no longer need to be done. The sturdy chassis, integrated battery pack and
powerful drive wheel combine to make a sporty design with sophisticated ergonomics perfectly. The
large front wheel allows you master bumps and obstacles like curbs with ease. Conclusion: the e-pilot
offers an environmentally friendly mobility alternative with maximum driving pleasure!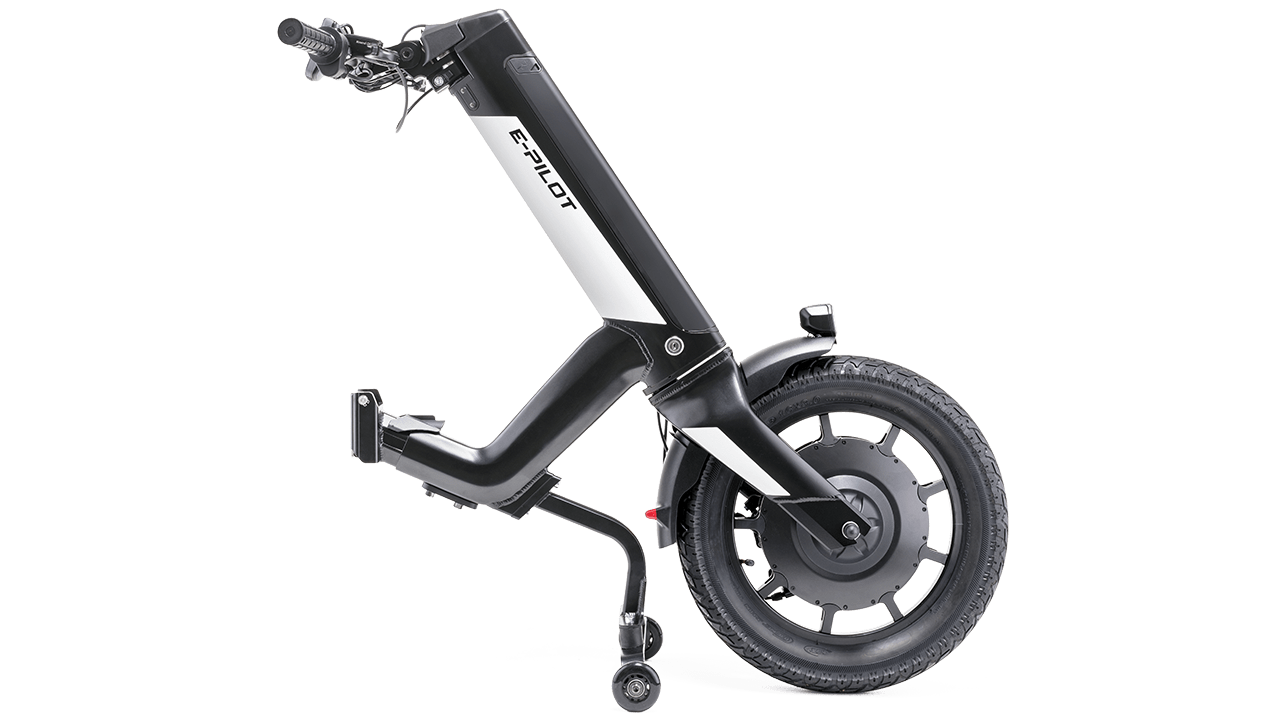 Take a quick trip into the city, visit friends or just a quick run with the dog: the
e-pilot makes it possible. Even longer distances are not an issue for you due
to the large lithium-ion battery pack. When you arrive at the destination, you
simply undock the e-pilot and use your manual wheelchair as usual.
The e-pilot offers you a new kind of mobility. The large front wheel, allows you to expand your options:
A dirt road or cobblestones are no longer obstacles. Even over a curb, just not a problem. The high
directional stability for more safety is a result of a sophisticated suspension tuning. Overcome existing
boundaries and enjoy your new freedom!
The optionally available Mobility Plus Package will get you to your destination faster, ensuring a real driving pleasure.
Thanks to the combination of Mobility App and smartphone, you gain access to a wheelchair-friendly navigation
function and a speed extension up to 20 km / h 1). The cruise control feature also rounds off the experience of relaxed
driving on longer stretches.
MOBILITY PLUS PACKAGE FUNCTIONS
Speed: Maximum Speed
up to 20 km/h on private property only)
Cruise: Maintaining your
selected speed
easyNavi: Navigation for
wheelchair occupants
Phone: Call and SMS notes
on the display 2)
TECHNICAL DATA
Weight of the person max. 100 kg
Permissible total weight max. 135 kg
Climbing capability up to 10 %
Braking capability up to 15 %
Speed 1) 0.5 – 20 km/h: Standard speed 6 km/h or 10 km/h.
For speed upgrade up to 20 km/h purchase.
Range
Depending on the ground surface, the weight of the person, temperature and terrain up to 50 km
Total weight 18.4 kg
Total weight without battery pack 15.5 kg