ZX-1 Power Add On
A revolutionary power add-on offering lifestyle enhancing mobility. The ZX-1's modern lightweight design is highly maneuverable, easy to operate and is packed with features allowing you to engage in more day to day activities with style.
The ZX-1 power add on clamps onto the camber bar of a rigid frame manual wheelchair and transforms it into a powered chair with joystick control. No need for transfers and because of the design it maintains the small footprint of the manual chair so that getting around small areas is not a problem.
The ZX-1 is ideal for:
- Wheelchair users who require a powered chair sometimes but prefer to be seated in a manual chair.
- Wheelchair users who require a powered chair much of the time but need the portability of a manual chair.
- Wheelchair users who require a powered chair with a small footprint.
- Wheelchair users who have upper limb weakness, strain and/or injuries
- Wheelchair users who are in recovery post shoulder surgery.
- Wheelchair users wishing to minimise the risk of shoulder injury.
- Wheelchair users who fatigue over the course of the day.
Features
Joystick
Easy to use joystick with complete movement control, horn, charge indicator, chair mounting button (to attached the ZX-1 to the camber bar), adjustable for either left or right hand operation and user arm length.
Mounting System
The joystick controllable electric mounting mechanism provides simple, easy and secure attachment or removal to most rigid or manual wheelchairs. The ZX-1 will fit widths of 15" to 20" and rear wheel sizes of 24", 25" and 26".
(note: for 15" wide wheelchairs a minimal of 2 degree of camber is required).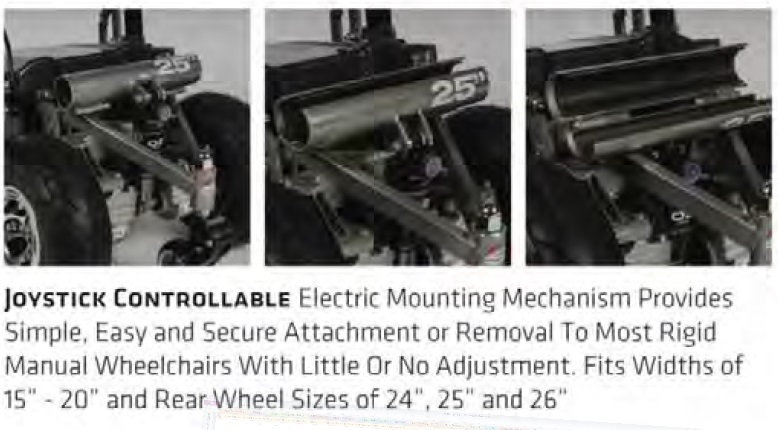 Anti Tip Mechanism
The ZX-1 includes an anti tip mechanism to prevent the manual chair front tipping backwards. This also allows for the front castors of the manual chair to be lifted of the ground for rough ground and small curbs.
Power on add base
The ZX-1 base includes padded armrests that are comfortable, but rugged and removable. The frame is extremely strong being made of TIG welded stainless steel The frame comes with a lifetime warranty, and a limited 1 year warranty on the electronics and other components.
Two 12v, 5A batteries with charging station offer reliable 7km/hr speed. The two 320W 24v DC motors deliver powerful performance over a variety of terrains. Features a 70A controller with actuator function.
The motors are protected by a carbon fibre cover.
Performance minded inflatable rubber tyres with maximum traction pattern are used on stylish polished aluminium wheels.
General Information
Weight Limit: 112 kg (250lb)
Approximate Distance on a charged battery: 8km (dependent on terrain)
Hoist Lifting Into Vehicle: Harmar Hoists will have a series of hoists available for the ZX-1 by September 2013. This will allow for hoist lift into sedan, utility or trailer. For more information please contact the Australian distributor for Harmar Hoist LiftWorx.